Excerpts From "This Was My Newport"[1] by Maud Howe Elliot:
CHAPTER IV - Lawton's Valley: Visitors

A great many of Mamma's "Owls" followed her to the Valley. We endured their company as best we could, while marveling at the folly of their conversation. They came, these grown-up bores, mostly in the afternoon, and strayed down into our Valley, where they had tea and talked about objective and subjective, the categorical imperative-all that nonsense ! Occasionally, instead of merely talking, they did something sensible-acted or sang songs. One afternoon, for instance, they acted a charade of which the whole word was "Blondin." Blondin was the wonderful Frenchman whose exploit of crossing Niagara on a tight-rope, trundling his wife before him in a wheelbarrow, had deeply touched our imaginations. Across the middle fall-there were three waterfalls in the Valley-a board was placed to represent the tight-rope. Blondin was impersonated by Eliot Furness, who advanced from the side of the gorge to the middle of the fall with nicest balance, and when there proceeded to make an omelet. That was something worth doing !

I have few early memories of the town of Newport. Mother occasionally drove herself into town-a long, hot, dusty drive of six miles-sometimes taking the elder children with her. Lawton's Valley was the enchanted country where I lived and loved during the summers of childhood.

[1] This Was My Newport, Maud Howe Elliot , Published in 1944 by the Mythology Co, Cambridge, MA.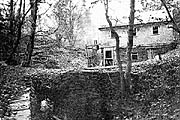 Old water mill located on property owned by Dr. Samuel Howe and his spouse, Julia Ward.This mill was powered by the water falling in Lawton Valley.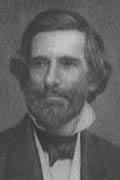 Samuel G. Howe, circa 1859,
from a photograph by Black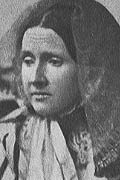 Julia Ward Howe circa 1861
from a photograph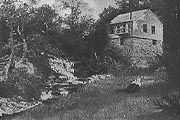 Mrs. Howe In Lawton's Valley
circa 1865, from a painting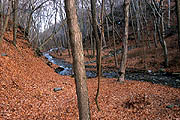 Golden Valley
© 2000, W. Saslow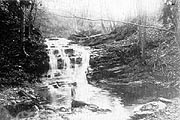 Lawton Valley Falls
circa 1890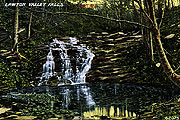 Lawton Valley Falls
Picture Postcard circa 1900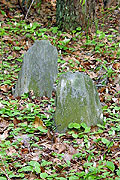 Pauper's Graves Marked Head and Foot, Without Inscription
© 2003, W. Saslow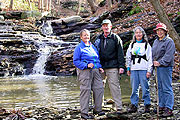 Lawton Valley Falls Today
© 2003, W. Saslow