Earthday Fun and Games
Earthday 2001 was a blast, with new events and a good turn-out. Activities included Herb Gardening, Nestbox Building and Placement, Recycle-A-Book, REWHC History, Recycle your Stuff, Coloring Books, the Norman Bird Sanctuary Natural History Table, Butterfly Gardening, Tree Planting, Trailwalks, music, treasurehunts, and more!
Nest Box Building and Training
A local scouting group, under diriction of Ed Rizy, built sixteen nestbox kits in redwood and pine and bagged them in preparation of Earthday. "The scouts were so excited, it was difficult to stop them from bulding them all.", Ed Rizy remarked. Certainly the children at Earthday had a lot of fun building the kits and then mounting their nestboxes in the field with the help of the scouts. The first annual nestbox monitoring course was given in the conference center during Earthday to prepare monitors for the birds, eggs, and chicks they were likely to see and the techniques to be used both on the nestbox trail and at the web browser for data entry.


Recycle-A-Book
Recycle a book was a big hit with employees bringing in unwanted books and picking up books brought by others. Several hundred books in many categories were brought in and many a smile left the table, encumbered with new reading treasures.

Butterfly Gardening
To complement last year's effort, a butterfly garden was planted in front of the Providence building.

EcoHunt
The Ecohunt was a lot of fun with participants choosing from three crossword puzzles. The solutions to the clues could be found by walking the Woodland Wander Trail and viewing the interpretive signs. An alternative, was to read the interpretive trail guide, which captured the trail sign descriptions.
More to Come
Please Stand By.

Earthday Lobby Setup
© 2000, Raytheon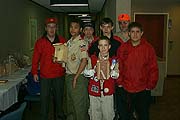 Nest Boxers
© 2000, Raytheon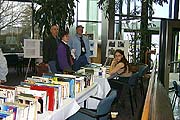 Recycle-A-Book
© 2000, Raytheon