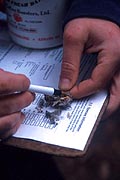 Owl Pellet Exam
© 2000, W. Saslow
Norman Bird Survey
© 2000, W. Saslow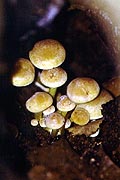 Hollow Tree Treasure
© 2000, W. Saslow
Dana & Matt
© 2000, W. Saslow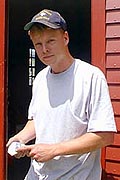 James Garman
© 2000,Salve Regina
Reaching Out To Our Community
---
We are working with local organizations and individuals to share our enthusiasm and put into effect a comprehensive process creating long-lasting benefits for wildlife. Community teaming of note are with:
We coordinate with local organizations using our
Team Bulletin Board
and
Calendar
!.
If your community group would like to get involved, contact us at
director@rewhc.org
.
Teaming with the Norman Bird Sanctuary
---
The
Norman Bird Sanctuary
is a close and productive team member in our wildlife venture. Their property manager and naturalist, Veronica Hinds, has been with us each step of the way, helping us split our 175 Acres into six eco-zones, and helping create the checklists used for our survey activities. They participated in our Earth Day Activities, led guided trailwalks during our company picnic, and are a continuing help in the survey of wildlife on the site.
Teaming with the Boy Scouts
---
The Boy Scouts have been instrumental in building and deploying a number of Tree Swallow and Screech Owl nesting boxes in our Meadow Fields, and Eastern & Western Woodlands zones. The Boy Scouts have also participated in our wildlife survey, walking the trails under the tutelage of our own Ed Rizy.
Teaming with the USDA
---
The US Department of Agriculture has been helpful in defining the soil on our property through their soil survey and their biologists have made themselves available to us for questions. They have also participated in our Earth Day activities.
Teaming with Matt Largess
---
Matt is a catalyst on our team. His unbounded energy, enthusiasm, and appreciation of nature is only matched by his knowledge of trees and their ecosystem. Matt is a local arborist and environmental activist, instrumental in preserving Oakland Farm, an old growth stead of rare trees in our area. He has helped us survey our site as well, and has lead tree-walks during both Earth Day and our company picnic. He has a website at
http://www.largessforestry.com
Teaming with Dana Filipini
---
Dana has been a steadfast resource to our team. Her participation in our survey and creation of a butterfly garden are of great benefit to our team. During Earth Day, Dana and other team mates planted the butterfly garden of her design in front of one of our main buildings. The plants have thrived and many have remarked on the beauty of the finished product. Her design has reinforced that designs for wildlife van be aesthetic pluses for a company.
Teaming with Jim Garman
---
We were originally referred to Jim Garman from our local historical society. Jim is a local historian and Professor at Portsmouth Abbey, having written several books on the history of Portsmouth. Jim has graciously welcomed our team and has become an important historical resource both in the techniques/resources of historical research and content as well. Jim maintains a number of maps which show land ownership from 1636 to the present. He also maintains a historical photo collection which contains a number of photographs of what became Raytheon property. Jim was also instrumental in introducing our team to his Son, a local archaeologist.
Teaming with James Garman
---
James Garman is a local professor of Archeaology at Salve Regina University. He has been a historical catalyst in identifying the Town Farm Site on our property, producing a great deal of team enthusiasm. James will be bringing his class to help research and map the Town Farm site as part of their fall semester class studies. The spring semester may yield continued teaming with professor and students to excavate and catalog the building foundations and cellars. Our team is excited in this opportunity with James and his classes.
Reaching out to our Fellow Wildlife at Work Programs
---
REWHC has been asked to present a paper at the Wildlife Habitat Council Symposium detailing how this website was built and what interactive features are available. As a model for prospective corporate sites, WHC thought our site was the most interactive website they had seen for this purpose.
View or download the presentation in:
TITLE
PDF
PPT
WHC Presentation
(optimized for 1024x768)

(1,138KB)

(1,369KB)
Reaching out to our Fellow Employees
---
REWHC reaches out to employees through events, emails, and through our campus broadcasting system (CBS). The campus broadcasting system is composed of monitors in lobbies and cafeterias in all building where employee-provided material may be shown during the workday. The following are the "Spotlight on Wildlife" presentations transmitted over the CBS to date:
TITLE
PDF
PPT
1. Lawton Valley History

(1,033KB)

(823KB)
2. Lawton Valley Wildlife

(1,092KB)

(1,684KB)
3. Western Woodland History

(477KB)

(997KB)
4. Western Woodland Wildlife

(469KB)

(669KB)
5. RNN Network News: Portsmouth Asylum History

(1,196KB)

(5,237KB)
6. Poor Intentions: Portsmouth Asylum in the Fabric of Rhode Island Social Reform

(2,067KB)

(5MB)
7. REWHC Annual Report for 2003

(555KB)

(8.7MB)
8. REWHC Biodiversity 2003

(1,004KB)

(10.9MB)
9. REWHC History 2003

(1.2MB)

(7.0MB)
10. REWHC Recertification 2003
(In-Progress)

(630KB)
(No PPT
File Available)
Employee Events include Earth Day, National Trails Day, and the Summer Cookout. Come see what we did during
Earthday 2001
!
REWHC in the News
---
REWHC has been the subject of local news. Early in 2005,
this
Sakonnet Times article was written.
Portsmouth, RI Location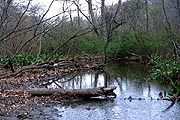 Lawton Valley Pond
© 2000, W. Saslow
It is Not Growing Like a Tree
by Benjamin Jonson

It is not growing like a tree
In bulk doth make Man better be;
Or standing long an oak, three hundred year,
To fall a log at last, dry, bald, and sere:
A lily of a day
Is fairer far in May,
Although it fall and die that night -
It was the plant and flower of light.
In small proportions we just beauties see;
And in short measures life may perfect be.

Coral Crown Fungus
© 2000, W. Saslow
A Bird Came Down
by Emily Dickenson

A bird came down the walk:
He did not know I saw;
He bit an angle-worm in halves
And ate the fellow, raw.

And then he drank a dew
From a convenient grass,
And then hopped sidewise to the wall
To let a beetle pass.

He glanced with rapid eyes
That hurried all abroad,--
They looked like frightened beads, I thought;
He stirred his velvet head

Like one in danger; cautious,
I offered him a crumb,
And he unrolled his feathers
And rowed him softer home

Than oars divide the ocean,
Too silver for a seam,
Or butterflies, off banks of noon,
Leap, splashless, as they swim.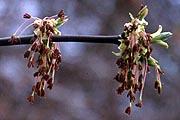 Red Maple Flowers
© 2000, W. Saslow
The Fish
by Rupert Brooke

In a cool curving world he lies
And ripples with dark ecstasies.
The kind luxurious lapse and steal
Shapes all his universe to feel
And know and be; the clinging stream
Closes his memory, glooms his dream,
Who lips the roots o' the shore, and glides
Superb on unreturning tides.
Those silent waters weave for him
A fluctuant mutable world and dim,
Where wavering masses bulge and gape
Mysterious, and shape to shape
Dies momently through whorl and hollow,
And form and line and solid follow
Solid and line and form to dream
Fantastic down the eternal stream;
An obscure world, a shifting world,
Bulbous, or pulled to thin, or curled,
Or serpentine, or driving arrows,
Or serene slidings, or March narrows.
There slipping wave and shore are one,
And weed and mud. No ray of sun,
But glow to glow fades down the deep
(As dream to unknown dream in sleep);
Shaken translucency illumes
The hyaline of drifting glooms;
The strange soft-handed depth subdues
Drowned colour there, but black to hues,
As death to living, decomposes --
Red darkness of the heart of roses,
Blue brilliant from dead starless skies,
And gold that lies behind the eyes,
The unknown unnameable sightless white
That is the essential flame of night,
Lustreless purple, hooded green,
The myriad hues that lie between
Darkness and darkness! . . .

And all's one.
Gentle, embracing, quiet, dun,
The world he rests in, world he knows,
Perpetual curving. Only -- grows
An eddy in that ordered falling,
A knowledge from the gloom, a calling
Weed in the wave, gleam in the mud --
The dark fire leaps along his blood;
Dateless and deathless, blind and still,
The intricate impulse works its will;
His woven world drops back; and he,
Sans providence, sans memory,
Unconscious and directly driven,
Fades to some dank sufficient heaven.

O world of lips, O world of laughter,
Where hope is fleet and thought flies after,
Of lights in the clear night, of cries
That drift along the wave and rise
Thin to the glittering stars above,
You know the hands, the eyes of love!
The strife of limbs, the sightless clinging,
The infinite distance, and the singing
Blown by the wind, a flame of sound,
The gleam, the flowers, and vast around
The horizon, and the heights above --
You know the sigh, the song of love!

But there the night is close, and there
Darkness is cold and strange and bare;
And the secret deeps are whisperless;
And rhythm is all deliciousness;
And joy is in the throbbing tide,
Whose intricate fingers beat and glide
In felt bewildering harmonies
Of trembling touch; and music is
The exquisite knocking of the blood.
Space is no more, under the mud;
His bliss is older than the sun.
Silent and straight the waters run.
The lights, the cries, the willows dim,
And the dark tide are one with him.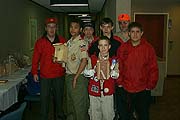 Nest Boxers
© 2001, Raytheon



Sunrise on the Hill
by Henry Wadsworth Longfellow

I stood upon the hills, when heaven's wide arch
Was glorious with the sun's returning march,
And woods were brightened, and soft gales
Went forth to kiss the sun-clad vales.
The clouds were far beneath me; bathed in light,
They gathered mid-way round the wooded height,
And, in their fading glory, shone
Like hosts in battle overthrown.
As many a pinnacle, with shifting glance.
Through the gray mist thrust up its shattered lance,
And rocking on the cliff was left
The dark pine blasted, bare, and cleft.
The veil of cloud was lifted, and below
Glowed the rich valley, and the river's flow
Was darkened by the forest's shade,
Or glistened in the white cascade;
Where upward, in the mellow blush of day,
The noisy bittern wheeled his spiral way.

I heard the distant waters dash,
I saw the current whirl and flash,
And richly, by the blue lake's silver beach,
The woods were bending with a silent reach.
Then o'er the vale, with gentle swell,
The music of the village bell
Came sweetly to the echo-giving hills;
And the wild horn, whose voice the woodland fills,
Was ringing to the merry shout,
That faint and far the glen sent out,
Where, answering to the sudden shot, thin smoke,
Through thick-leaved branches, from the dingle broke.

If thou art worn and hard beset
With sorrows, that thou wouldst forget,
If thou wouldst read a lesson, that will keep
Thy heart from fainting and thy soul from sleep,
Go to the woods and hills! No tears
Dim the sweet look that Nature wears