Rhododendron
© 2000, W. Saslow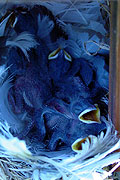 Tree Swallow Babies
© 2002, W. Saslow


Who We Are
---
We are a group of volunteer employees of Raytheon Company in Portsmouth, Rhode Island, making a difference in improving the environment around our workplace. As a member of the Wildlife Habitat Council (WHC), Raytheon encourages its employees to participate in "Wildlife at Work". This program brings employees together with local organizations to:
perform a wildlife inventory of our worksite,
recruit and maintain volunteer membership to carry out REWHC goals,
develop a wildlife management plan which encourages diversity,
execute the management plan, documenting progress, and
verify progress through periodic surveillance.
REWHC achieved
certification
from the WHC in 2001 for the development of a successful wildlife management program in Portsmouth. REWHC achieved a 3-year
recertification
in 2003 from the WHC, having shown continuing progress on multiple programs.
Overview of the Facility

---
Raytheon broke ground in Portsmouth, Rhode Island in 1959 on what was then farmland, to establish a 750,000 square foot facility over four major buildings. The property is approximately 175 acres in size. The site contains manicured lawns and formal landscaping along West Main Road and has wooded corridors to the west of the buildings on site. The site is steeply sloped to the west behind the building and parking lots providing panoramic views of Narragansett Bay and Prudence Island. Employees frequently walk between buildings in the course of the day and many take the opportunity to walk the Thomas C. Ligon Trail, circling the campus, for lunchtime exercise.
The property is bordered by Burma Road on the west, West Main Rd (Rte 114) on the east, Lawton Brook on the south, and a farmer who leases land from Raytheon borders the property to the north. A
map
provides a good overview of the site.
How To Use This Site
---
This site is composed of four major areas which will be accessed by both team members, local organizations, and the general public:
Survey: This area provides a workspace for performing a wildlife inventory and periodic surveys needed to identify diversity and verify program effectiveness. It includes species identification tips, downloadable species checklists, an online database entry and reporting capability, and pertinent links to the Bulletin Board.
Planning: This area provides a workspace for performing and documenting of planning needed in developing a comprehensive wildlife management plan. It includes a schedule of planned habitat improvements in response to the wildlife inventory and defines verification parameters in terms of periodic surveys. It provides principal access to the Team Calendar and a Team Bulletin Board To enhance communications.
Projects: This area provides a workspace for documenting the backlog and progress of ongoing projects needed to implement the Wildlife Managemnt Plan. It includes a photographic timeline history of team activities.
Outreach: This area provides a workspace for interacting with community organizations and the public at large and includes a Guestbook and pertinent links to the Bulletin Board.
Organizational Assistance: This new area provides a mechanism for members to document minutes from group meetings and action items resulting from meetings.
Portsmouth, RI Location

Featured This Month:
Coyote Sunset
© 2003, W. Saslow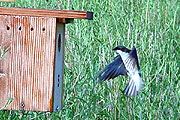 Tree Swallow Mama Returns
© 2002, W. Saslow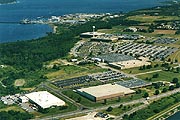 Raytheon, Portsmouth, Rhode Island Site
© 1999, Raytheon Company
Same Raytheon Site Early In Construction During 1959
© 2000, Raytheon Company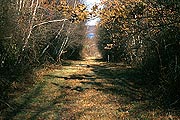 Trail to the Sea
© 1999, W. Saslow
Hope is the Thing With Feathers
by Emily Dickenson

Hope is the thing with feathers
That perches in the soul,
And sings the tune without the words,
And never stops at all,

And sweetest in the gale is heard;
And sore must be the storm
That could abash the little bird
That kept so many warm.

I've heard it in the chillest land,
And on the strangest sea;
Yet, never, in extremity,
It asked a crumb of me.