Introduction
---
Lawton Valley has quite a far-reaching and colorful past. Though it has changed over the years due to dam construction and the passing of an almost entirely agrarian culture, the features which made it a favorite over the centuries remain today. The residence of a town founder and a well known author/poet, Lawton Valley has a lot to offer to naturalist and historian alike.
Read
what Richard Champlin, a local naturalist, had to say about Lawton Valley.
COLONIAL PERIOD
---
The following excerpt is from Representative Men and Old Families of Rhode Island, Vol. 1, part 2, p. 1038. "The Lawton family of Newport is of English descent and dates back to the earliest days of the Rhode Island colonies, as the emigrant ancestor, Capt. George Lawton, was one of the first settlers in Portsmouth." "George was one of the twenty-nine signers of the compact of 1639, and in 1648 was a member of the court of trials, while in the same year he was recorded as owner of forty acres of land located near the property of his brother Thomas." He also had land on the Wading River (now Lawton Brook) where he built a mill, and land on the east side of the road opposite his mill. This area on the West Main road in Portsmouth was later called Lawton's Valley. The Lawton family has a distinctive
Coat of Arms
.
Portsmouth Compact
---
The names below are those of the signers (copied verbatim)of the Compact of Loyalty, Apr. 30, 1639, which was as follows:
"We whose names are underwritten do acknowledge ourselves the legal subjects of His Majesty King Charles, and in his name do hereby bind ourselves into a civil body politic, unto his laws according to matters of justice."
The foregoing and the list of signers are from "Early Records of Town of Portsmouth R.I." In a reproduction of a torn partial record of 1639 in the same book is this: "
eorge Layton & Tho Laiton to ech halfe an ac next him e of ye ponde
" showing how names of both brothers were misspelled here when written by another. Where George wrote his name signing the Compact it was correctly spelled. Thomas did not have his name written correctly in his signature (suggesting it was signed by another). His name is correctly spelled on 41 later pages of this same volume mentioning him down to Feb. 19, 1653 and referring to his land down to the year 1659. Two signatures were erased above, as shown.
Excerpted from the
Realm of Lawton
Website.
CIVIL WAR ERA
---
The civil war era usage of Lawton's Valley is dominated by the presence of Julia Ward Howe, poet, reformer, and author of the
Battle Hymn
of the Republic. Julia built a house on the old mill site and created a small garden of eden there where she was able to get away and do some of her best writing. What follows are excerpts from:
Julia Ward Howe, 1819-1910 Volume I. by Laura E. Richards (1850-1943) and Maud Howe Elliott (1854-1948), Assisted by Florence Howe Hall(1845-1922). Boston and New York: Houghton Mifflin Company, 1916. (Copyright, 1915.)
Julia Ward Howe Early June 1865 on Her home in Lawton's Valley:
At this time there was some question of selling Lawton's Valley for economic reasons. The exigency passed, but the following words show the depth of her feeling on the subject: "If I have any true philosophy, any sincere religion, these must support me under the privation of the Valley. I feel this, and resolve to do well, but nature will suffer. That place has been my confidante,­my bosom friend,­intimate to me as no human being ever will be­dear and comforting also to my children...."
Hardly less dear to us than Green Peace, and far dearer to her, was the summer home at Lawton's Valley in Portsmouth, Rhode Island. Here, as at South Boston, the Doctor's genius for "construction and repairs" wrought a lovely miracle. He found a tiny farmhouse, sheltered from the seawinds by a rugged hillock; near at hand, a rocky gorge, through which tumbled a wild little stream, checked here and there by a rude dam; in one place turning the wheel of a mill, where the neighboring farmers brought corn to grind. His quick eye caught the possibilities of the situation. He bought the place and proceeded to make of it a second earthly paradise. The house was enlarged, trees were felled here, planted there; a garden appeared as if by magic; in the Valley itself the turbulent stream was curbed by stone embankments; the open space became an emerald lawn, set at intervals with Norway spruces; under the great ash tree that towered in the centre rustic seats and tables were placed. Here, through many years, the "Mistress of the Valley" was to pass her happiest hours; to the Valley and its healing balm of quiet she owed the inspiration of much of her best work.
On her Poem "In My Valley":"My first writing in the new house, where may God help and bless us all. May no dark action shade our record in this house, and if possible, no surpassing sorrow."
1869-1871:
"Lawton's Valley was sold, to our great and lasting grief: and­after a summer spent at Stevens Cottage near Newport­the Doctor bought the place now known as "Oak Glen," scarce half a mile from the Valley; a place to become only less dear to the family."
Julia Ward Howe was born in New York City, May 27, 1819, and died in Portsmouth, R.I., October 17, 1910. She was elected to the Academy January 28, 1908,--Chair 36. With her husband, S. G. Howe, she edited the Boston Commonwealth, an anti-slavery paper, contributing also to the New York Tribune and the Anti-Slavery Standard. She edited the Woman's Journal, was one of the founders of the New England Women's Club, president of the Association for the Advancement of Women, and of the Boston Authors' Club. In 1872 she was delegate to the World's Prison Reform Congress in London. She founded The Women's Peace Association and, singlehanded, tried to raise a Peace Crusade. In 1874 she instituted "Mother's Day," to be devoted to the advocacy of peace, a festival observed for many years. Her writings include "Passion Flowers" "Words for the Hour," "Later Lyrics," "From Sunset Ridge," and several volumes of travels and essays. Her principal legacy is the "Battle Hymn of the Republic."
Source In Memoriam: A Book Of Record
Copyright 1922 The American Academy of Arts and Letters
Author/Editor William M. Slone
20th Century To Present

---
Lawton's Valley was dammed in 1945 to create the Lawton Valley Reservoir, a source of drinking water for Portsmouth. Gone was the Wading River volume of rushing water. What was left of the tributary was renamed Lawton's Brook. In 1959, Raytheon purchased part of the land where Lawton's Valley now stands.
Portsmouth, RI Location
Tree Fungus
© 2000, W. Saslow
Lawton Falls Closeup
© 2000, W. Saslow
In My Valley
by Julia Ward Howe

From the hurried city fleeing,
From the dusty men and ways,
In my golden sheltered valley,
Count I yet some sunny days.

Golden, for the ripened Autumn
Kindles there its yellow blaze;
And the fiery sunshine haunts it
Like a ghost of summer days.

Walking where the running water
Twines its silvery caprice,
Treading soft the leaf-spread carpet,
I encounter thoughts like these:­

"Keep but heart, and healthful courage,
Keep the ship against the sea,
Thou shall pass the dangerous quicksands
That ensnare Futurity;

"Thou shalt live for song and story,
For the service of the pen;
Shalt survive till children's children
Bring thee mother-joys again.

"Thou hast many years to gather;
And these falling years shall bring
The benignant fruits of Autumn,
Answering to the hopes of Spring.

"Passing where the shades that darken
Grow transfigured to thy mind,
Thou shalt go with soul untroubled
To the mysteries behind;

"Pass unmoved the silent portal
Where beatitude begins,
With an equal balance bearing
Thy misfortunes and thy sins."

Treading soft the leaf-spread carpet,
Thus the Spirits talked with me;
And I left my valley, musing
On their gracious prophecy.

To my fiery youth's ambition
Such a boon were scarcely dear;
"Thou shalt live to be a grandame,
Work and die, devoid of fear."

"Now, as utmost grace it steads me,
Add but this thereto," I said:
"On the matron's time-worn mantle
Let the Poet's wreath be laid."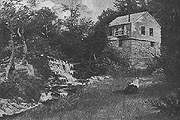 Mrs. Howe In Lawton's Valley
circa 1865, from a painting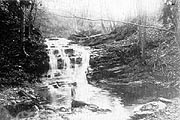 Waterfall at Lawton Valley c. 1890.
The round object in the right foreground is a
discarded mill stone. Early water powered gristmills were established at Lawton Valley and the Glenn



Waterfall at Lawton Valley c. 2000.
© 2000, W. Saslow



Old water mill located on property owned by Dr. Samuael Howe and his spouse, Julia Ward. This mill was powered by the water falling in Lawton Valley.


Lawton Mill Site
© 2000, W. Saslow
The Flag
by Julia Ward Howe

There's a flag hangs over my threshold
Whose folds are more dear to me
Than the blood that thrills in my bosom
Its earnest of liberty.

And dear are the stars it harbors
In its sunny field of blue,
As the hope of a further Heaven
That lights all our dim lives through.

Weave no more silks, ye Lyons looms,
To deck our girls for gay delights!
The crimson flower of battle blooms,
And solemn marches fill the night.

Weave but the flag whose bars to-day
Drooped heavy o'er our early dead,
And homely garments, coarse and gray,
For orphans that must earn their bread!