REWHC Participates in Bioblitz 2001!
In its second year of operation, the Biobliz is an event organized by the Rhode Island Natural History Survey to bring the scientific community together with the public for a day of surveying and cataloguing. With this year's target area of Aquidneck Island, REWHC got involved and had the Portsmouth Raytheon Campus added to the list of sites to be surveyed. REWHC also offered the services of its survey team headed by Bill Saslow and including Tom Jones, Diana Ukleja, Beth Ripa, Matt Coffin, and Ed Rizy.

Getting Started
At 3:00PM on Friday, 9/14, the team met at the Norman Bird Sanctuary and signed in, receiving Bioblitz scientist T-Shirts. The weather was cold and drizzly, but we set out in two groups surveying Birds and Flora. Most birds were laying low, but some could not avoid detection. A wet three hours later, we turned in our data to the centralized headquarters and agreed to meet at Raytheon at 9:00Am the next morning.

On The Raytheon Campus
At 9:00AM, the survey group signed in at the Nimitz building and two groups were formed; one for birds and one for Flora. Tom Jones and his two children escorted Lisa Gould of the Rhode Island Natural History Survey in examining our meadow fields. Jay Manning, DEM employee and Norman Bird Sanctuary President and Arliss Ryan, local naturalist and author, joined Bill Saslow and Beth Ripa for survey of birds. We found approximately 35 species of birds on the campus and both entered them into the REWHC database and the Bioblitz database. Of special note, was a Blackburnian Warbler. We left for the Norman Bird Sanctuary around noon.

Wrap-Up and Results
Overall, approximately 79 people took part exploring Aquidneck Island on Friday and Saturday 9/14 and 9/15. On 3:00 p.m. Saturday, the tally was 736 species, surpassing the previous year's tally. Download a report of the bird species found.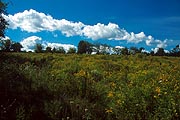 Meadow Clouds
© 2001, W. Saslow
Bill Saslow In Fields
© 2001, W. Saslow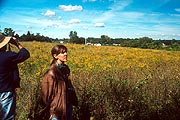 Jay and Arliss Survey
© 2001, W. Saslow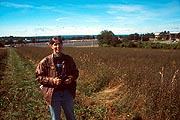 Arliss Ryan Local Naturalist and Author
© 2001, W. Saslow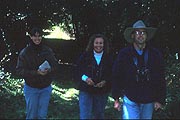 Arliss, Bet, and Jay
© 2001, W. Saslow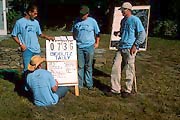 Final Count at Norman
© 2001, W. Saslow