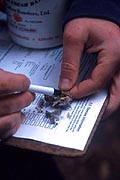 Owl Pellet Exam
© 2000, W. Saslow
Norman Bird Survey
© 2000, W. Saslow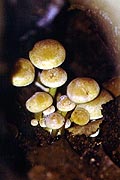 Hollow Tree Treasure
© 2000, W. Saslow
Dana & Matt
© 2000, W. Saslow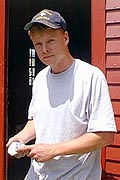 James Garman
© 2000,Salve Regina
Reaching Out To Our Community
---
We are working with local organizations and individuals to share our enthusiasm and put into effect a comprehensive process creating long-lasting benefits for wildlife. Community teaming of note are with:
We coordinate with local organizations using our
Team Bulletin Board
and
Calendar
!.
If your community group would like to get involved, contact us at
director@rewhc.org
.
Teaming with the Norman Bird Sanctuary
---
The
Norman Bird Sanctuary
is a close and productive team member in our wildlife venture. Their property manager and naturalist, Veronica Hinds, has been with us each step of the way, helping us split our 175 Acres into six eco-zones, and helping create the checklists used for our survey activities. They participated in our Earth Day Activities, led guided trailwalks during our company picnic, and are a continuing help in the survey of wildlife on the site.
Teaming with the Boy Scouts
---
The Boy Scouts have been instrumental in building and deploying a number of Tree Swallow and Screech Owl nesting boxes in our Meadow Fields, and Eastern & Western Woodlands zones. The Boy Scouts have also participated in our wildlife survey, walking the trails under the tutelage of our own Ed Rizy.
Teaming with the USDA
---
The US Department of Agriculture has been helpful in defining the soil on our property through their soil survey and their biologists have made themselves available to us for questions. They have also participated in our Earth Day activities.
Teaming with Matt Largess
---
Matt is a catalyst on our team. His unbounded energy, enthusiasm, and appreciation of nature is only matched by his knowledge of trees and their ecosystem. Matt is a local arborist and environmental activist, instrumental in preserving Oakland Farm, an old growth stead of rare trees in our area. He has helped us survey our site as well, and has lead tree-walks during both Earth Day and our company picnic. He has a website at
http://www.largessforestry.com
Teaming with Dana Filipini
---
Dana has been a steadfast resource to our team. Her participation in our survey and creation of a butterfly garden are of great benefit to our team. During Earth Day, Dana and other team mates planted the butterfly garden of her design in front of one of our main buildings. The plants have thrived and many have remarked on the beauty of the finished product. Her design has reinforced that designs for wildlife van be aesthetic pluses for a company.
Teaming with Jim Garman
---
We were originally referred to Jim Garman from our local historical society. Jim is a local historian and Professor at Portsmouth Abbey, having written several books on the history of Portsmouth. Jim has graciously welcomed our team and has become an important historical resource both in the techniques/resources of historical research and content as well. Jim maintains a number of maps which show land ownership from 1636 to the present. He also maintains a historical photo collection which contains a number of photographs of what became Raytheon property. Jim was also instrumental in introducing our team to his Son, a local archaeologist.
Teaming with James Garman
---
James Garman is a local professor of Archeaology at Salve Regina University. He has been a historical catalyst in identifying the Town Farm Site on our property, producing a great deal of team enthusiasm. James will be bringing his class to help research and map the Town Farm site as part of their fall semester class studies. The spring semester may yield continued teaming with professor and students to excavate and catalog the building foundations and cellars. Our team is excited in this opportunity with James and his classes.
Reaching out to our Fellow Wildlife at Work Programs
---
REWHC has been asked to present a paper at the Wildlife Habitat Council Symposium detailing how this website was built and what interactive features are available. As a model for prospective corporate sites, WHC thought our site was the most interactive website they had seen for this purpose.
View or download the presentation in:
TITLE
PDF
PPT
WHC Presentation
(optimized for 1024x768)

(1,138KB)

(1,369KB)
Reaching out to our Fellow Employees
---
REWHC reaches out to employees through events, emails, and through our campus broadcasting system (CBS). The campus broadcasting system is composed of monitors in lobbies and cafeterias in all building where employee-provided material may be shown during the workday. The following are the "Spotlight on Wildlife" presentations transmitted over the CBS to date:
TITLE
PDF
PPT
1. Lawton Valley History

(1,033KB)

(823KB)
2. Lawton Valley Wildlife

(1,092KB)

(1,684KB)
3. Western Woodland History

(477KB)

(997KB)
4. Western Woodland Wildlife

(469KB)

(669KB)
5. RNN Network News: Portsmouth Asylum History

(1,196KB)

(5,237KB)
6. Poor Intentions: Portsmouth Asylum in the Fabric of Rhode Island Social Reform

(2,067KB)

(5MB)
7. REWHC Annual Report for 2003

(555KB)

(8.7MB)
8. REWHC Biodiversity 2003

(1,004KB)

(10.9MB)
9. REWHC History 2003

(1.2MB)

(7.0MB)
10. REWHC Recertification 2003
(In-Progress)

(630KB)
(No PPT
File Available)
Employee Events include Earth Day, National Trails Day, and the Summer Cookout. Come see what we did during
Earthday 2001
!
Portsmouth, RI Location
Lawton Valley Pond
© 2000, W. Saslow
It is Not Growing Like a Tree
by Benjamin Jonson

It is not growing like a tree
In bulk doth make Man better be;
Or standing long an oak, three hundred year,
To fall a log at last, dry, bald, and sere:
A lily of a day
Is fairer far in May,
Although it fall and die that night -
It was the plant and flower of light.
In small proportions we just beauties see;
And in short measures life may perfect be.

Coral Crown Fungus
© 2000, W. Saslow
First Robin
by Emily Dickenson

I dreaded that first robin so,
But he is mastered now,
And I'm accustomed to him grown,--
He hurts a little, though.

I thought if I could only live
Till that first shout got by,
Not all pianos in the woods
Had power to mangle me.

I dared not meet the daffodils,
For fear their yellow gown
Would pierce me with a fashion
So foreign to my own.

I wished the grass would hurry,
So when 't was time to see,
He'd be too tall, the tallest one
Could stretch to look at me.

I could not bear the bees should come,
I wished they'd stay away
In those dim countries where they go:
What word had they for me?

They're here, though; not a creature failed,
No blossom stayed away
In gentle deference to me,
The Queen of Calvary.

Each one salutes me as he goes,
And I my childish plumes
Lift, in bereaved acknowledgment
Of their unthinking drums.


Red Maple Flowers
© 2000, W. Saslow
Pine-Trees and the Sky: Evening
by Rupert Brooke

I'd watched the sorrow of the evening sky
And smelt the sea, and earth, and the warm clover
And heard the waves, and the seagull's mocking cry

And in them all was only the old cry
That song they always sing -- "The best is over
You may remember now, and think, and sigh
O silly lover!
And I was tired and sick that all was over
And because I
For all my thinking, never could recove
One moment of the good hours that were over
And I was sorry and sick, and wished to die

Then from the sad west turning wearily
I saw the pines against the white north sky
Very beautiful, and still, and bending ove
Their sharp black heads against a quiet sky
And there was peace in them; and
Was happy, and forgot to play the lover
And laughed, and did no longer wish to die
Being glad of you, O pine-trees and the sky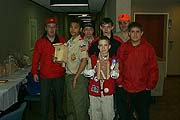 Nest Boxers
© 2001, Raytheon



Flowers
by Henry Wadsworth Longfellow

Spake full well, in language quaint and olden,
One who dwelleth by the castled Rhine,
When he called the flowers, so blue and golden,
Stars, that in earth's firmament do shine.

Stars they are, wherein we read our history,
As astrologers and seers of eld;
Yet not wrapped about with awful mystery,
Like the burning stars, which they beheld.

Wondrous truths, and manifold as wondrous,
God hath written in those stars above;
But not less in the bright flowerets under us
Stands the revelation of his love.

Bright and glorious is that revelation,
Written all over this great world of ours;
Making evident our own creation,
In these stars of earth, these golden flowers.

And the Poet, faithful and far-seeing,
Sees, alike in stars and flowers, a part
Of the self-same, universal being,
Which is throbbing in his brain and heart.

Gorgeous flowerets in the sunlight shining,
Blossoms flaunting in the eye of day,
Tremulous leaves, with soft and silver lining,
Buds that open only to decay;

Brilliant hopes, all woven in gorgeous tissues,
Flaunting gayly in the golden light;
Large desires, with most uncertain issues,
Tender wishes, blossoming at night!

These in flowers and men are more than seeming;
Workings are they of the self-same powers,
Which the Poet, in no idle dreaming,
Seeth in himself and in the flowers.

Everywhere about us are they glowing,
Some like stars, to tell us Spring is born;
Others, their blue eyes with tears o'er-flowing,
Stand like Ruth amid the golden corn;

Not alone in Spring's armorial bearing,
And in Summer's green-emblazoned field,
But in arms of brave old Autumn's wearing,
In the centre of his brazen shield;

Not alone in meadows and green alleys,
On the mountain-top, and by the brink
Of sequestered pools in woodland valleys,
Where the slaves of nature stoop to drink;

Not alone in her vast dome of glory,
Not on graves of bird and beast alone,
But in old cathedrals, high and hoary,
On the tombs of heroes, carved in stone;

In the cottage of the rudest peasant,
In ancestral homes, whose crumbling towers,
Speaking of the Past unto the Present,
Tell us of the ancient Games of Flowers;

In all places, then, and in all seasons,
Flowers expand their light and soul-like wings,
Teaching us, by most persuasive reasons,
How akin they are to human things.

And with childlike, credulous affection
We behold their tender buds expand;
Emblems of our own great resurrection,
Emblems of the bright and better land