Survey Objectives
Provide periodic survey of Reptile and Amphibian species in various locations of the Raytheon, Portmouth, Rhode Island site for purposes of wildlife management. We are interested in knowing the diversity of life on our site and the trends of such life and diversity under our management.
Survey Methods
Making use of employees, their families, and local community groups, identify Reptiles and Amphibians onsite. A checklist has been prepared and is available for download (as prototype) or may be obtained from several centralized nature trail kiosks (future). Check out the Info-Files below to jump-start your knowledge of Reptiles and Amphibians and the use of field guides is suggested. As a group, fill out a checklist per visit and follow directions in entering the resulting data onto our website. We will periodically compile reports based on the collected data and make them available online.
Info-Files
Check out the reptile and amphibian info-files to find out more about these species before you begin.
Database Entry
The database used for Reptiles and Amphibians is of flatfile type with data entry similar in format to the checklist. An account is needed to enter information in the database. Only a survey chairperson has the ability to modify or delete all forms once they've been added. For an account, send me an e-mail at webmaster@rewhc.org and access the database here. The database is currently ready for use. The uses the same username/password set in the bulletin board program. Passwords are synchronized daily, so a delay may be present between changing your bulletin board password and that password proliferating for access to the database.
Database Reporting
Reports provide up-to-the-minute information used for wildlife management planning and verification. Two classes of reporting are provided:
Relative Abundance and Diversity Within a Species - These reports describe the relative abundance of Reptiles and Amphibians by zone on the site and the relative diversity of unique Reptile and Amphibian subspecies by zone. A start and end time filter can be applied to these reports for snapshots in time to be analyzed. Use the Report Selection Form to enter a time filter.
Reptile Info-File
Amphibian Info-File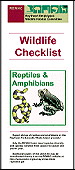 Click To Download