Rhododendron
© 2000, W. Saslow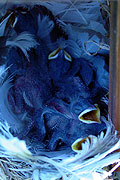 Tree Swallow Babies
© 2002, W. Saslow


Who We Are
---
We are employees of Raytheon Company in Portsmouth, Rhode Island, making a difference in improving the environment around our workplace. As a member of the Wildlife Habitat Council (WHC), Raytheon encourages its employees to participate in "Wildlife at Work". This program brings employees together with local organizations to:
perform a wildlife inventory of our worksite,
develop a wildlife management plan which encourages diversity,
execute the management plan, documenting progress, and
verify progress through periodic surveillance.
REWHC achieved
certification
from the WHC in 2001 for the development of a successful wildlife management program in Portsmouth. REWHC achieved a 3-year
recertification
in 2003 from the WHC, having shown continuing progress on multiple programs.
Overview Of The Facility

---
Raytheon broke ground in Portsmouth, Rhode Island in 1959 on what was then farmland, to establish a 750,000 square foot facility over four major buildings. The property is approximately 175 Acres in size. The site contains manicured lawns and formal landscaping along West Main Road and has wooded corridors to the west of the buildings on site. The site is steeply sloped to the west behind the building and parking lots providing panoramic views of Narragansett Bay and Prudence Island. Employees frequently walk between buildings in the course of the day and many take the opportunity to walk the Thomas C. Ligon Trail, circling the campus, for lunchtime exercise.
The property is bordered by Burma Road on the West, West Main Rd (Rt 114) on the East, Lawton Brook on the South, and a farmer who leases land from Raytheon borders the property to the North. A
map
provides a good overview of the site.
How To Use This Site
---
This site is composed of four major areas which will be accessed by both team members, local organizations, and the general public: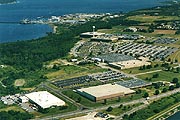 Raytheon, Portsmouth, Rhode Island Site
© 1999, Raytheon Company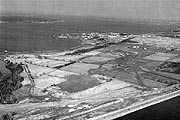 Same Raytheon Site Early In Construction During 1959
© 2000, Raytheon Company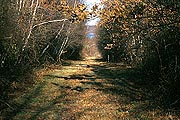 Trail to the Sea
© 1999, W. Saslow
First Robin
by Emily Dickenson

I dreaded that first robin so,
But he is mastered now,
And I'm accustomed to him grown,--
He hurts a little, though.

I thought if I could only live
Till that first shout got by,
Not all pianos in the woods
Had power to mangle me.

I dared not meet the daffodils,
For fear their yellow gown
Would pierce me with a fashion
So foreign to my own.

I wished the grass would hurry,
So when 't was time to see,
He'd be too tall, the tallest one
Could stretch to look at me.

I could not bear the bees should come,
I wished they'd stay away
In those dim countries where they go:
What word had they for me?

They're here, though; not a creature failed,
No blossom stayed away
In gentle deference to me,
The Queen of Calvary.

Each one salutes me as he goes,
And I my childish plumes
Lift, in bereaved acknowledgment
Of their unthinking drums.