Introduction
The southwest corner of Raytheon's Rhode Island campus contains the site of an infamous poor farm, whose excesses led to social welfare reform. Operating from 1833 to 1929, the Portsmouth Asylum has a colorful history, characterizing a largely forgotten, failed, national experiment in social welfare reform

The Raytheon Wildlife Habitat Committee (REWHC) has an interest in the history of the Portsmouth Asylum, for purposes of education. As a working farm, the Portsmouth Asylum provides an agricultural and human context for natural history discussion of the area and points of interest on a nature trail system.


Goal
The goal of the Portsmouth Asylum Historical Project is the development of an interpretive trail through the site of the Portsmouth Asylum and its application as an educational tool for employees, families, and the community. Through the eyes of poor farm residents, daily life is revealed in the context of our nation's poor farm experiment. Preserved artifacts are presented in a small "museum" as well as on the trail to bring the poor farm experience home to visitors and employees alike. Detailed goals include:

Identification of buildings and farm features and their uses,

Identification of personal items, tools, and work goods,

Identification of residents, keepers, and their stories,

Comparison with today's social welfare system and how people view the poor and insane,

Confirmation of a punishment dungeon described in records,

Maintenance of the site and artifacts as an important local resource,

Development of lesson plan(s) with local educators resulting in class visits to the site.

Activities
Overlapping phases include gathering information, gathering physical evidence, recording progress, and development of lesson plan(s) to share our newfound knowledge with the community.

Phase 1: Research
Research is extremely important in understanding what occurred at the Portsmouth Asylum. Both in supporting mapping, and the interpretation of excavated artifacts, research is critical and several volunteers are needed to continue this effort. Research activities include both specific and background searches into Portsmouth Asylum history. The Portsmouth Free Library, Portsmouth Town Hall, Portsmouth Historical Society, Rhode Island Historical Society, individual interviews, and other research avenues such as the internet are explored for information about the Portsmouth Asylum, its people, and their everyday life in the context of our nation's Poor Farm experience. We also wish to secure permits for our activities.

Phase 2: Walkover, Transect and Mapping
Mapping will be performed to determine the relative location of buildings and objects in the landscape. A walk-over of the site will be followed by layout of a transect, limited shovel-testing, and the use of probes to map out the location of walls and other objects. The site is surveyed for archaeological extent and mapped electronically. A grid system of 30x30 foot squares (transects), originating on the Southwest corner of the site, is laid out over the site using surveyor's stakes, compass, and a tape measure. An alphanumeric transect numbering scheme is used, with letters on the North axis and numbers on the East axis so that each transect can be identified uniquely. The Southwest transect is identified as "A1". Initial mapping of the site helps identify transects to be excavated commensurate with available resources and artifact potential. A permit will likely be obtained for this activity to ensure process integrity.

Phase 3: Identification of Significant Artifact Deposits
Within the transects, previously mapped, and in context of building outlines, the locations of likely significant artifact deposits are identified and provided as a map overlay. Limited shovel-testing and the use of probes will minimize site disturbance. A permit will likely be obtained for this activity to ensure process integrity.

Phase 4: Artifact Recovery
Selective excavation reveals artifacts of how residents at the poor farm lived and worked. Excavation involves the careful removal of levels of sediment with the purpose of uncovering and recording artifacts and features. Removed soil is screened for small fragments. Photographic evidence is maintained for uncovered items including their position in the transect, orientation, and depth. Before removal for cataloguing and possible preservation, a data sheet is prepared for the artifact including a sketch of its orientation in the transect. A master map is maintained for the site showing major archaeological features and artifact locations. Artifacts are interpreted for relevance in the telling of the poor farm story and may be used for exhibit both in a "museum" setting and on the trail. A graphical representation of the poor farm in operation is created. A permit will likely be obtained for this activity to ensure process integrity.

Phase 5: Interpretation and Curation
Once recovered, artifacts will undergo interpretation and resulting data archiving and dissemination. This includes storing, archiving, and disseminating artifacts and other scientific data collected during the course of the project. A permit will likely be obtained for this activity to ensure process integrity.

Phase 6: Documentation
At various times, research and physical evidence summaries are updated on the REWHC.org website and a powerpoint presentation shown on the campus broadcast system. Interpretive signs telling the poor farm story, including the history, physical features, and artifacts will be erected along the trail. A self-guiding tri-fold trail map for the Poor Farm Ramble will be created and copies distributed both via the REWHC.org website and the Nimitz building lobby.

Phase 7: Education
As we proceed through the phases, educational materials in the form of lesson plans are created and shared with local educators. Hosted on-site visits provide hands-on opportunities for students both in the field of local history and archaeological methods. Local universities and students are welcomed as volunteers, enriching the team and their hands-on experience.

Resources
Resources are needed for all phases.

Volunteers will be needed to keep the areas protected, perform research, perform excavations, catalog data, and perform mapping.

A physical storage area (lockable) with file cabinets, worktable, sink (running water optional but desired).

Rest Room access (for employee and other volunteers)

Basic excavation tools including trowels, buckets, pickaxe, shovels, screen, wheelbarrow,

Surveyors stakes, sledge hammer or mallet,

Tape measure (have 100')

GPS/Compass (have surveyor compass)

Control Signs/Interpretive Signs

Controls
We must place controls on our excavation, handling of artifacts, site access, and database access to protect our data integrity and the integrity of the site and gathered artifacts. Controls are emplaced for both visitors and volunteers. For visitors, signage will be prepared warning visitors from certain areas and not to touch artifacts. If deemed necessary, fencing may be erected either temporarily or permanently to protect critical areas. For volunteers, strict excavation and handling protocols will be enforced to ensure discovery of relevant artifacts, minimum damage to artifacts, and proper recording of artifact information.

Information Technology
This website will journal our progress and serve as a database repository for reports and photographs. Envisioned information technology resources include:

PERL-based artifact catalog system (WEB-based),

Artifact collection sheets (downloadable in PDF format),

PC-Based CAD drawing package (GIF image and DWF file on website),

PC Based Harris Diagramming Program (GIF image on website),

Web-based Bulletin Board for journaling and communication,

E-mail for communication.


Progress
Working from aerial photos from the early 20th century, we found the site in August of 2000, began to map the site's features in October of 2001, and created a work trail to it in February of 2002. We have put up flagging to protect sensitive areas.
On the research front, we have found a number of references which are shared on the website in the links area on the top right of this page. We have created a presentation for our campus broadcast network which aired in January 2002 and is available for download here, and presented progress during our Earthday celebration on April 20th, 2002. We also presented a paper at the Portsmouth Free Library and the Portsmouth Historical Society in 2004. We are lining up support for the upcoming excavation, but are going it slow to prevent errors. We started collaboration with Linda Crannell, whose website is titled: The Poorhouse Story, in late February 2002. An excellent poorhouse historian, she is helping us focus our poorhouse message.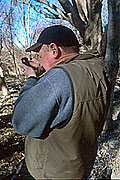 John Ort takes a bearing from the datum point to a site feature for mapping purposes
© 2002, William Saslow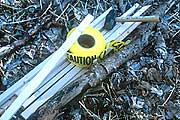 Stakes and tape mark areas off-limits for casual visitors
© 2002, William Saslow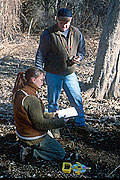 John Ort and Daughter Jen transfer sitings to map.
© 2002, William Saslow